Waukesha/Milwaukee Graffiti Removal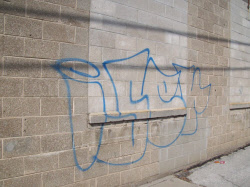 Efficient Cleaning is your best choice for sandblasting and graffiti removal in Milwaukee, Waukesha, and all of Southeastern Wisconsin. Efficient Cleaning works until the job is done, no matter how deep or tough the graffiti removal job is. Efficient Cleaning. Call Efficient Cleaning today to learn how our Milwaukee graffiti removal and vandalism cleanup services will make your property look like new.
Efficient Cleaning is the company to call for sandblasting and graffiti removal in Milwaukee, Waukesha and all of Southeastern Wisconsin call 414.305.3074 no one will ever know you were vandalized.
What We Do
Efficient Cleaning Services has over 20 years experience in the industry. We provide unrivaled exterior maintenance services to commercial customers in Milwaukee, Wisconsin City and the surrounding areas. Our leading self-performing company specializes in exterior maintenance programs which are geared toward banks, retails, and other commercial and industrial
Call now at (414)305-3074 to inquire about our dependable graffiti removal and superb power washing services!

Efficient Cleaning Services offer a full service approach in all aspects of our work. We believe good communication is vital to ensure full satisfaction from our customers. Efficient cleaning has worked hard from the start to become the top choice in Wisconsin for pressure cleaning, graffiti removal, bird control and other exterior maintenance services. We accomplish this with our commitment on building ongoing relationships with our clients. Keep the exterior of your business in tip-top shape. Call us today at (414) 30503074 for commercial power washing and graffiti removal services in the Milwaukee, Wisconsin area.
Graffiti Removal - Building, Storefront & Sidewalk Cleaning
If you own a business, then you know the importance of maintaining a good image. So when hoodlums, hooligans, street thugs, ruffians, or whatever term you want to use for those that spread graffiti, pick your place of business to be their next work of art, you need to act quickly in having the graffiti removed.
Unfortunately, graffiti removal is not an easy task. It requires tons of experience, high pressure cleaning equipment, and just the right chemicals. The primary reason it's so hard to clean off graffiti is related to the various types of paint these so call street artists use; which generally is whatever they can get their hands on.
Another issue that makes removing graffiti a challenge is handling the run-off. If you're not careful, the paint that's being washed off the walls could end up staining the sidewalk or even the streets. Certain protective measures must be taken to prevent disaster that could end-up costing you way more than you thought.
The safest way to remove graffiti is to hire a professional cleaning company that has the necessary equipment, training, and experience needed to get your building looking new again.
Contact us today for more information and to request a FREE Consultation with one of our friendly pressure washing specialists


Efficient cleaning is outsatanding in Milwaukee Wisconsin doing graffiti cleaning company form pressure washing to steam cleaning , when graffiti goes up it must come down right away. Its helps know one it destroys neighborhoods and business its blight on the community and everyone around. So if you are faced with a situation call efficient cleaning services we will be right out, to remove it . Don't let them win. Brought to you by efficient cleaning services
We are a facility services provider of commercial establishment of all type of building office , industrial, we come in and tide up your shop or what have you, I'll take this time to be descriptive off all the services we offer. Form restaurant degreasing to manufacture clean up of your shop grease cleaning steam cleaning. Window washing. Keeping the side walk clean, in strip mall shopping malls. Hospitals, daycares, churches, synagogues we so clean for the Passover.
If you over see building structure and retain outside services you want to include us as a bidding vendor and get a quote from us. Competitive is always the key making sure you're getting a comparisable pricing. Will keep the outside and inside nice and clean. From the sidewalk way to the parking lot. I hope this never happen ,but in the event that it dose we are here to remove the graffiti that some jerk might spray on your building , to take preventative measures when is goes up, you take it down right away!
Graffiti hurts everyone, and brings down the value of the neighborhood and no one wants that. Our business is keeping your up.
Make a Cleaning Service Deposit OR Trucking Service Deposit Through PayPal