Attic / Basement / Garage Clean-Up in Milwaukee/Waukesha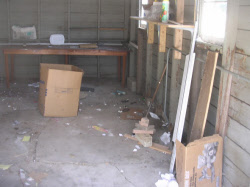 Efficient Cleaning is the only cleaning company in Milwaukee who will empty your garage, basement, or attic of all the junk, dispose of all of it responsibly, and then clean every surface until it's spic and span. Reclaim your storage area today with Efficient Cleaning, Milwaukee garage cleaning, basement cleaning, and attic cleaning services. Even water, flood, or fire damage is no problem - whatever your cleaning need, Efficient Cleaning is your greater Milwaukee/Waukesha garage cleaning, basement cleaning, and attic cleaning company to call.
Call Efficient Cleaning TODAY to clean out your garage, basement or attic in the Milwaukee, Waukesha and all of Southeastern Wisconsin 414.305.3074 and reclaim your storage space today!
HOW TO CLEAN A BASEMENT
BY EFFICIENT CLEANING SERVICES
Basement cleaning in the city of Milwaukee Wisconsin and throughout the state of Wisconsin, and beyond whether your basement if finish or unfinished we will clean it. Starting from the top-down, now let's start with an unfinished whether you have furniture or items down there no worries we move the furniture around and if need be we will take it out and put it back, we will also clean the items too. We leave no stones unturned. Efficient Cleaning cleans the most unfinished basement we pressure wash the basement PSI pressure water. And before we do that we do a heavy vacuum of ceiling walls and any crevice in the walls that's this first step. Then we duct tape electrical outlets so no water gets in switches after we soap the basement down, spraying of the ceiling that was done by hand. Now all basements are not equal some require more work or time the other based on how well they were maintained either way we are going to solve your problem even kill the odor whether dogs or cats will that odor if you stuff in your basement where the cats or dogs were sleeping on or just staying the same space those items or furniture will have an odor if we can we do our utmost to kill that smell in your contents.
Back to the basement if you have a painted floor and if the floor wasn't primed before painting it will not adhere to the concrete floor very well so when power the floor the paint will flake causing power washing off the paint on the floor and the walls are no different.
And when all is Sayed and done you will have a nice and clean basement by Efficient Cleaning Services Residential and commercial. Commercial basement cleaning services throughout Wisconsin, Efficient Cleaning Services.
Now even as it rains outside water can come through the roof, you'll find other intrusion circumstances other then water in your basement bring that to our attention we will look at that for you as well and if we can stop it we will do that too. And while we are there if you think other things we can help you with let us know while we there, when finishing with the most important project we will look at the other one too. we are here to help you, first and foremost . posted on April 18, 2013, the day all the rain came down.

When we clean Basement we go all in from floor to ceiling all walls and everything in-between we will all the items bikes and boxes to make sure the basement to make sure free of all odors. OUR MISSION!



Make a Cleaning Service Deposit OR Trucking Service Deposit Through PayPal