Attic / Basement / Garage Clean-Up in Milwaukee/Waukesha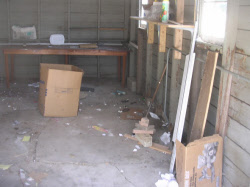 Efficient Cleaning is the only cleaning company in Milwaukee who will empty your garage, basement or attic of all the junk, dispose of all of it responsibly, and then clean every surface until it's spic and span. Reclaim your storage area today with our Milwaukee garage cleaning, basement cleaning, and attic cleaning services. Even water, flood or fire damage is no problem - whatever your cleaning need, Efficient Cleaning is you greater Milwaukee/Waukesha garage cleaning, basement cleaning and attic cleaning company to call.
Call Efficient Cleaning TODAY to clean out your garage, basement or attic in the Milwaukee, Waukesha and all of Southeastern Wisconsin 414.305.3074 and reclaim your storage space today!

Now even as it rains outside water can come through the roof ,you'll find other intrusion circumstances other then water in your basement bring that to our attention we will look at that for you as well and if we can stop it we will do that too. And while we are there if you think other things we can help with let us know while we there, when finishing with the most important project we will look at other one too. we are here to help you ,first and foremost . posted on April 18, 2013 the day all the rain came down.
Make a Cleaning Service Deposit OR Trucking Service Deposit Through PayPal